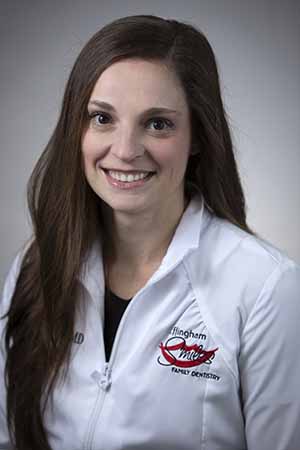 Dr. Nicole Yates grew up in Columbus, GA. She received her undergraduate degree in chemistry from Georgia State University in Atlanta, and graduated from the Dental College of Georgia at Augusta University (formerly the Medical College of Georgia).
Upon graduating dental school Nicole spent four years serving as a Lieutenant in the United States Navy, during which a one year General Practice Residency was completed. Dr. Yates is a member of the Georgia Dental Association, as well as the Southeastern District Dental Society.
Her husband, Steven, and their two young sons, Warren and Holden, welcomed a return to the sunshine of the southeast after enduring harsh Rhode Island winters. Steven teaches 7th grade Social Studies at a local Middle School. Outside of work, the Yates family enjoys being outdoors kayaking, fishing, or enjoying the beach. Warren and Holden obtained passports very young, as the family enjoys world traveling.
On the rare occasion that there is time, Dr. Yates enjoys cooking and is constantly looking for new recipes.
WANT TO LEARN MORE?
DROP US A NOTE.
Please fill out the form below and someone from
our team will get back to you as soon as possible.
EFFINGHAM SMILES FAMILY DENTISTRY
Office Address
499 S Columbia Ave, Rincon, GA 31326